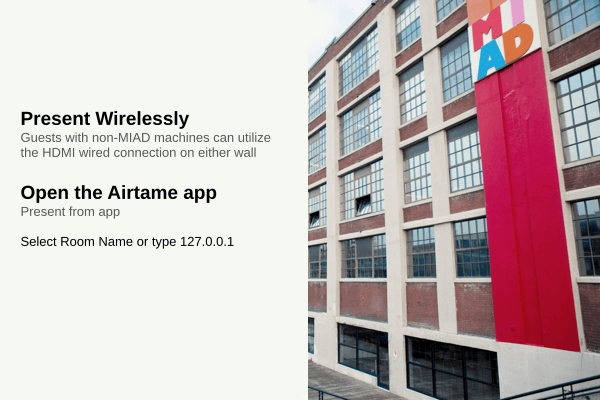 Airtames can be found around campus in classrooms and conference rooms; they allow you to wirelessly project your screen onto either a TV or projector.
In order to utilize them, you need the Airtame app or Airplay (if you're on a Mac or iPad). If you're using a MIAD-owned machine, you already have the app.
Using the Airtame App
Open the Airtame app
Depending what network you're on, a list may auto-populate of available rooms

You can also type the IP address of the room you're in, if you don't want to go through the list

In the screenshot above, the example IP address is 127.0.0.1 - this will differ for each room you're in

If your list pre-populated, select your room number or name

In the example, Room Name is what you're looking for

Your list will look like the following:
Click Share screen
A numeric PIN will be shown on the TV/projector
Enter that PIN into your app

Your screen should now appear on the TV or projector
Using Airplay
Click the Airplay icon in the top bar

If you don't see it, go to the Apple icon (top-left corner) > System Preferences > Displays > select "Show mirroring options in the menu bar when available."

Select the name of the room you're in from the list
To use Airtame as a second display, click in the menu bar, then select "Use as a Separate Display"
Your screen should now be projecting
To stop sharing your screen, click back in the menu bar and select "Turn Airplay Off"